Unfortunately Menchies has closed unexpectedly!  We have cancelled the Menchies Friday order for December 15th. If you had ordered for that day, you will find a credit in your Munch a Lunch account.
~~~~~~~~~~~
The new parking lot is sure nice — but please remind your child that it is not a good place to ride their scooter or bike due to traffic!
~~~~~~~~~~~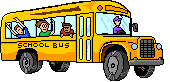 Now you can get notifications via text or e-mail for bus information!  Please click here for a detailed instruction sheet, then visit the School District 59 website to get started!

~~~~~~~~~~~
Parents – Please do not park in the drop off areas in the parking lot as this slows the flow of traffic in the morning and afternoon.  If you are parked waiting for your child, please use the designated parking lot area. 
~~~~~~~~~~~
If you wish to receive full-colour e-mail copies of our school newsletters instead of the paper copy that gets sent home with your child, please click here and put 'newsletter' in the subject line and let me know your child's name.

~~~~~~~~~~~~~
CANADIAN PARENTS FOR FRENCH NEEDS YOU!
Canadian Parents for French (CPF) is a national organization that promotes quality French Language learning.  CPF chapter works with teachers, administrators, school boards and trustees to promote and improve French as a Second Language opportunities at the local level.
In the past, CPF has sponsored a grade 12 bursary, Tombola, Concours d'art oratoire (French public speaking competition), and French cultural performances.
In order for CPF Dawson Creek to continue, we need your support.  Please join us at our next meeting.
~~~~~~~~~~~~~